These are the images submitted for publication with the paper "Marching to Disaster"
on February 14, 2003
Figure 1
Left: Smallpox. World Health Organization
Right: Bartonellosis, Odriozola, E. 1944 La Enfermadad de Carrion o Verruga Peruana. Revista de la Sanidad de Policia. Lima [no copyright notice, government publication, public domain]

Figure 2
Pre-Columbian Ceramic Figurine, Alexander 1995
Figure 3
Ollantaytambo, water canal, photograph by JBK

Figure 4
Stone Walls of dwellings at Machu Pichu, photograph by JBK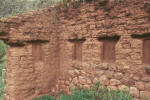 Figure 5
Adobe/Stone walls delling at Pisac, photograph by JBK

Figure 6
Map showing areas of Ecuador endemic for Bartonellosis today, Amano et al. 1997

Figure 7
Map showing Pizarro's route in 1531-1532, Hemming 1970

Figure 8
Advanced Leprosy, National Medical Library, Bethesda.

Figure 9
Aniceto de la Cruz by Thomas Salazar, 1857, author's photograph of original courtesy of Jorge Lossio, Lima.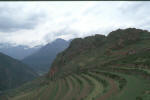 Figure 10
Terraces at Pisac, photograph by JBK