Romanesque Art and Architecture
In the summer of 1989 I participated in a Travelling Seminar organized by Syracuse University Department of Programs Abroad and taught by the late William Melczer. Since then I have returned often to the Pilgrimage routes through France and Spain to continue photographing the many Romanesque monuments along the way. Lately (September 2009), I travelled to Sicily to document Arab-Norman architecture of the 12th century including the Cathedral and cloister at Monreale, outside of Palermo. Cataloguing the images from the cloister at Monreale I was reminded of other cloisters I have visited, and I decided to begin the process of digitizing the examples of Romanesque architecture in my slide collection from years past. In the process of preparing this set I came upon the useful map below and include it here for easy reference. The scanning is now complete for the items in France, and the images are available for license and are offerred with complete metadata in NEF, Tiff, or jpeg format. Please see the representative images I have posted on the Gallery page that you may visit by clicking on the brown Gallery of Images button above, at the top of this page. I list the French Romanesque sites in my collection below. For France they are grouped alphabetically region by region, with the number of images indicated for each site. In the near future I will scan the slides of Romanesque sites in Spain, many of which are listed after the French sets itemized below. Also available for license are the images of Arab-Norman architecture of 12th century Sicily, including especially the Cathedral of Monreale and its clositer. To see examples of these images please click on the hyperlink titled Norman Sicily in the column to the left of this text.
Field work in 2010 has provided additional images as noted below, examples of which may be seen by going to the France 2010 gallery page by clicking on the button at the top of the Gallery of Images page reached by clicking on the brown button at the top of this page.
<![if !vml]>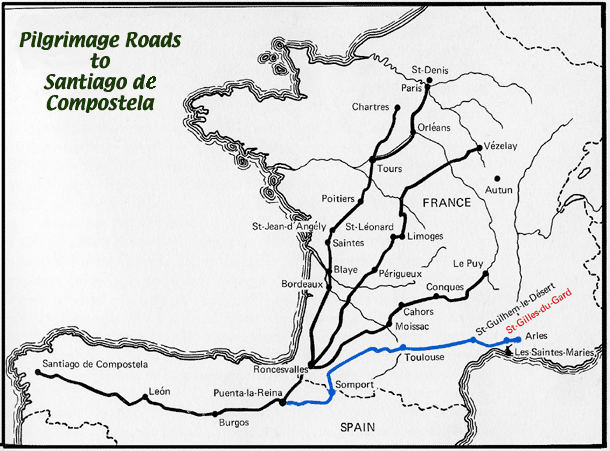 <![endif]>
http://peregrinations.kenyon.edu/gilles_photoessay/StGilles-du-Gard.html
France
Ile-de-France
5 Povrins, St. Quiriace, Interior, exterior
Burgundy
14 Anzy le Duc, Sainte-Trinité d', exterior, tympanum, landscape
22 Autun, St. Lazare, Interior, Exterior
5 Chapaize, St. Martin de Chapaize, exterior, village
14 La Charite sur Loire, interior, exterior
29 Charlieu, Abbaye de St. Fortunatus, exterior, cloister, façade
37 Cluny, Abbey Church Interior, Exterior, Museum
7 Germigny des Pres, Interior, Exterior
29 Fontenay, Cistercian Abbey, Interior, Exterior
8 Laives, St. Martin de Laives, Abbey before 1142, exterior and site
14 Paray le Monial, Sacre Coeur Church, interior and exterior
28 Perrecy les Forges, Priory Church, inside and outside
34 St. Benoit sur Loire, Interior, Exterior
2 St. Julien de Jonzy, Church of St. Julien, Tympanum
31 Semur en Brionnais, Church of St. Hilaire, inside and outside
19 Tournus, Abbaye de St. Philibert, Interior, Exterior
4 Varenne l' Arconce, St Pierre aux Liens, general views
8 Vezelay, former Abbey, Basicilica of Mary Magdalene, Interior, Exterior
Perigord (Dordogne)
57 Beaulieu, Church of St. Pierre, interior, exterior, North Porch and tympanum in detail village
33 Carennac, Church of St. Pierre, Tympanum, cloister, town
18 Creysse, Church, exterior
6 Perigeux, Cathedral St. Front, exterior
Poitou (Poitou-Charentes)
22 Angoulême, Cathedral of St. Pierre, exterior
28 Poitiers, Notre Dame le Grande, exterior, façade in detail
20 Surgères, Notre Dame de Surgères, exterior, façade details
Saintonge (Charente Maritime)
21 Corme Royal, exterior facade in detail
5 Saintes, (former) Cathedral of St. Pierre, exterior (Romanesque portion)
18 Saintes, Abbaye aux Dammes, exterior
8 Sablonceaux, Abbey, interior, exterior, landscape
8 Talmont sur Gironde, exterior
6 Thaims, Church of St. Pierre-en-Liens de Thaims, exterior
14 Retaud, Saint Trojan de Retaud, exterior
Gascony (Midi-Pyrenees)
84 Conques, Abbey Church of St. Foy, façade in detail, interior, landscapes
58 Moissac, Abbaye de St. Pierre, Façade in detail, Cloister in detail, church art
20 Oloron, Church of St. Mary, porch sculpture, tympanum
6 Hospital St. Blaise, Pilgrim Church exterior views, tympanum
Provence & Languedoc
53 Aix en Provence, Cathedral of St. Sauveur, Cloister in detail, Baptistery
4 Arles, Les Alyscamps
138 Arles, St. Trophime, Façade in close detail, Nave, Cloister
21 Arles, Montmajour Abbey, interior, exterior, landscape
10 Avallon, St Lazare Cathedral, exterior
41 Elne, Cathedral of Sainte Eulalie et Sainte Julie d'Elne, cloister, façade
10 Riez, Baptistery, interior
18 St. Gilles du Gard, Façade
14 St. Guilhem le Desert, Interior and exterior, surrounding countryside
3 Les Saintes-Maries de la Mer, Church, exterior
12 Tarascon vicinity, Chapelle St. Gabriel, exterior views
31 Le Thoronet, Cistercian Abbey, Interior and exterior views
13 Toulouse, St. Sernin Cathedral, interior, exterior
23 Toulouse, Musée des Augustines, sculpture on display
1,128 Total
France 2010 field work:
Abbey Church of St. Georges de Boscherville (40 images)
Inside and outside, 1113
Abbaye aux Hommes, Caen (25 images)
Inside and outside, 1066 site of tomb of William the Conqueror
Abbaye aux Dames, Caen (25 images)
Inside and outside, 1062 , 1115, tomb of Queen Mathilda
Abbey Church of St. Foy, Conques (100 images)
Inside and outside, 1120 completion, tympanum in extenso and in detail, exterior and interior
Abbey Church of St. Savin de Gartempe, (50 images)
inside and outside, context, 11th & 12th C mural painting in extenso
Abbey Church of St. Marie de Souillac (40 images)
Inside and outside, 11th C sculpture, Isaiah
Abbey Church of St. Pierre, Beaulieu-sur-Dordogne (75 images)
Inside and out, c. 1140, South Portal in extenso and in detail
Chapel of the Penitents, Beaulieu-sur-Dordogne (10 images)
Inside and outside, c. 1280, inside and out
Collegiate Church of St. Pierre of le Dorat, (40 images)
inside and outside, context, 11th C Romanesque sculpture, Carolingian Baptismal Font
Priory Church of St. Pierre, Carennac (40 images)
Inside and outside, 11th C. Cluniac Priory, Tympanum and sculpture
Spain
Roncesvalles
Leyre, Monastery, Exterior, interior, crypt
Jacca, Cathedral, Exterior, Museum
San Juan de la Pena, Monastery, cloister, general views
Estella, San Pedro de la Rua, Portal, Santo Sepulchro, Palace of Kings of Navarre
San Millan de la Cogolla, Monastery, Library, Reliquaries
Santo Domingo de Silos, Cloister and Village
Leon, Cathedral, Facades, cloister
Leon, Church of San Isidro, Exterior, Interior
O Cebreiro, Village and Village Church, art
Puenta la Reina
Santiago de Compostela, exterior, interior, town
Avila, San Vincente, Porch and portal, general views, Cathedral
Santillana del Mar, Collegiate Church of Santa Juliana, (formerly Augustinian convento after departure of Benedictines)
Salamanca, Old Cathedral, Interior, exterior